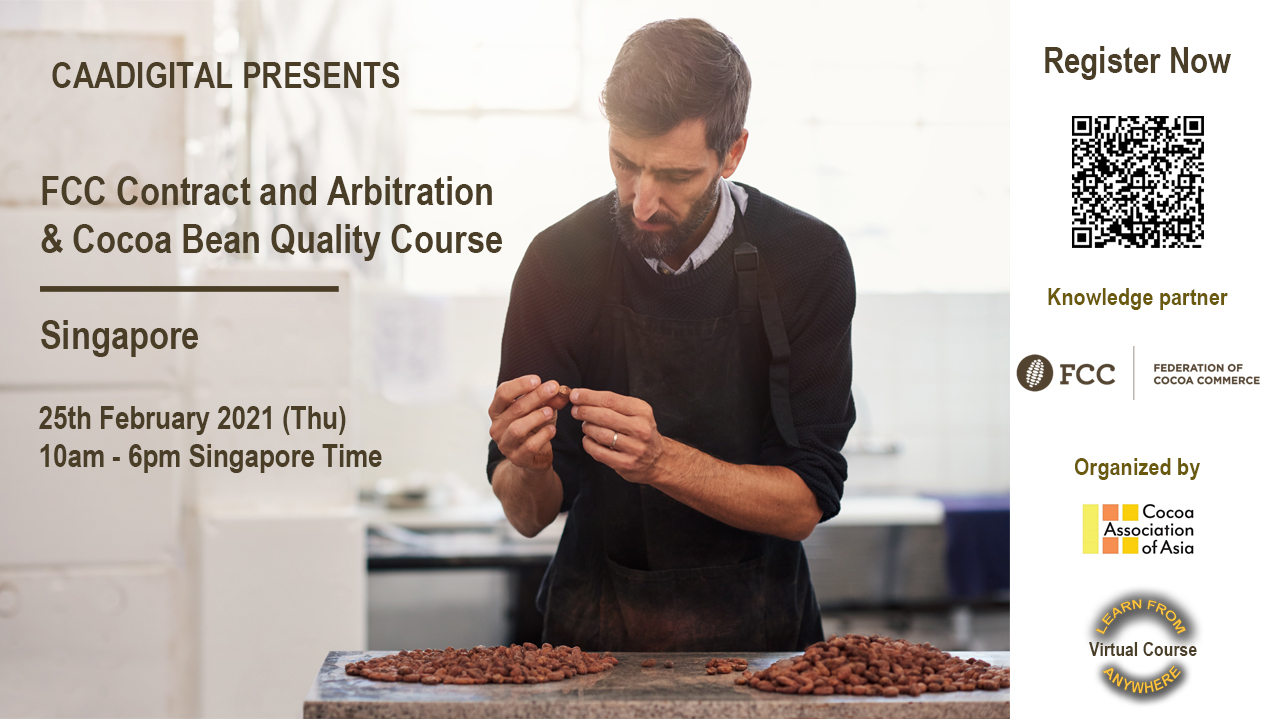 The Contract & Arbitration Course (25 Feb 2021) – VIRTUAL
25 FEBRUARY 2020 | 1000 – 1800HRS SINGAPORE TIME | VIRTUAL PROGRAMME
Jointly organized by Cocoa Association of Asia and Federation of Cocoa Commerce
The Contract & Arbitration Course has been jointly designed by the FCC and CAA not only to provide the relevant understanding and knowledge to be applied to the negotiation and execution of FCC Contracts but also as an insight into FCC Arbitration matters. A valuable addition to the course is an extra segment on the Quality Assessment of cocoa beans, together with a virtual training session.
WHAT IS COVERED?
One full day course developed by the FCC, a globally recognized organization
4 focussed sessions:

Introduction to FCC and FCC Contracts
The Short Form Contract
The Execution of Contract – FCC will provide an overview of the various contracts and then focus on one most commonly used contract as an example
Quality assessment of Cocoa beans
WHO SHOULD ATTEND?
Ideally participants should already have some knowledge of the FCC contract definitions and form
Cocoa Producers/Traders/Exporters/Buyers
Cocoa Processors
Users of the FCC contracts & arbitration services
Cocoa logistics and warehousing companies
Currently only 8 seats left – we are getting a lot of interest for this programme, register now to avoid disappointment.