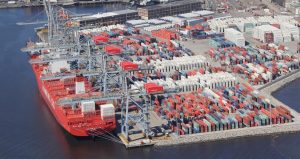 Katoen Natie, a global logistics and engineering service provider with a long history
Founded in 1854 and headquartered in Antwerp, Belgium, Katoen Natie has grown into one of the leading logistics and engineering service providers in the world.
Katoen Natie combines its knowledge of product handling and supply chain engineering with product know-how and logistics experience. This enables us to develop unique, tailor-made solutions which create substantial added value in the supply chain of our customers.
Katoen Natie
Employs +13,500 people;
Is operational in +35 countries;
Owns +5.000.000m² of warehouses, +3.500 silos and various port terminals around the world;
Generates annual sales of +2 billion €;
Offers tailor-made logistics solutions to different industries: fast moving consumer goods, petrochemicals, general cargo, specialty chemicals, food & feed and soft commodities;
Provides supply chain and processing engineering to various industries.
Katoen Natie an innovative partner in the supply chain management of soft commodities
Katoen Natie has grown into an advanced supply chain manager for soft commodities and has built up long experience in the field of handling of cocoa, semi-finished cocoa products, coffee and nuts.
Katoen Natie's division commodities operates dedicated soft commodity platforms in Europe (Antwerp, Amsterdam, Le Havre, Marseille, Tallinn, Tarragona, Rivalta), Africa (Abidjan, San Pedro, Douala, Tema, Takoradi) and Asia (Ho Chi Minh, Singapore).
Katoen Natie division commodities offers a variety of services including but not limited to handling, warehousing, distribution, repackaging, forwarding, customs, … etc.
Working together with Katoen Natie's division commodities means opting for a pro-active and cost-effective cooperation with a logistics partner who's ready to meet specific needs, who's aware of the need for constant innovation and who chooses for sustainable solutions.