Incorporated in 2017 and headquartered in Singapore, Von Alm sources, trades and risk manages the delivery of agricultural commodities worldwide.
The cocoa bean sourcing network spreads from SE-Asia and APAC to Latin America, including certified beans such as UTZ, Rainforest Alliance, Fairtrade, and Organic cocoa. Von Alm holds subsidiaries in its key sourcing countries such as Ecuador and Colombia and holds company agents & representatives in various countries across APAC and Europe.
Von Alm proudly presents its most recent project which will go live soon:
VON ALM MARKETPLACE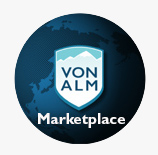 Von Alm Marketplace is a platform where physical demand meets physical supply at:
Best Price
Mitigated Risk
Best Planning.
Von Alm Marketplace enables you to trade the Prompt as well as the Forward market:
From a wide array of Origins
To all major Destinations.
The 'Market Overview' feature gives the market at a glance incl. historic price – anywhere, anytime. By doing so, it gives a daily Settlement Price, Transparency and it even features Traceability.