PRESS RELEASE
The Cocoa Association of Asia (CAA), the leading Cocoa Association in Asia for both Cocoa and Chocolate companies, will host CAA Live Forum – Will Cocoa Demand Grind to a Halt?  – on October 16 @ 16:00 Singapore Time.  This live webinar will take place immediately following the release of the CAA Q3 Cocoa Grind numbers.
 
"We might be a bit crazy to try and pull off a live event for our very first foray into digital broadcasting, but there is a reason why we are going live.  On October 16 we will release our Q3 Cocoa Grind numbers during our CAA General Meeting.  So, we thought it would be the perfect time to bring together some of the smartest cocoa minds in Asia to reflect on the Q3 grind numbers and provide some commentary on where the cocoa market is heading during these turbulent times" Said CAA Chairman Richard Fahey.
State of Cocoa in Asia
Don't let the foreboding title of our upcoming webinar scare you into thinking it is all doom and gloom here in Asia.  In fact, many industry participants will be quick to tell you that the COVID-19 challenges have brought new opportunities to the industry. As consumer behavior has changed – more consumption of cocoa-based products at home, increased emphasis on healthy eating, increased interest in home-baking – there seem to be as many opportunities for cocoa to grow its presence in Asia as there are challenges.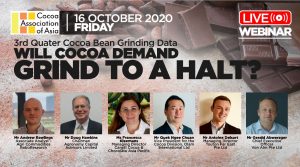 Webinar Panel include:
Mr. Andrew Rawlings, Associate Analyst – Agri Commodities, RaboResearch
Ms. Francesca Kleemens, Managing Director from Cargill Cocoa & Chocolate Asia Pacific
Mr Quek Ngee Chuan, Vice President for the Cocoa Division at Olam International Ltd
Mr. Antoine Delsart, Managing Director of Touton Far East Pte Ltd
Mr. Gerald Abwerzger, Chief Executive Officer, Von Alm Pte Ltd.
Panel bios can be found here.
Full information can be found on the website:  https://cocoaasia.org/dir/events/caadigital-webinar16oct20/
Contact info:
Name: Shirley Choo
Organization: Cocoa Association of Asia
Email: enquiry@cocoaasia.org
The Online Forum details are as follows:
16th October 2020 (Friday)
4pm – 530pm Singapore time
Online via registration
Free registration
For any questions please reach out to:
Shirley Choo, Marketing Manager, Cocoa Association of Asia | Shirley.choo@cocoaasia.org"